Biography on the Supremes -
When the Spotlight Started Shining...
Reviews: book biographies on the Supremes and Dreamgirls film
Get Supremes music: CDs and sheet music
Supremes photos and posters here
(Click Play to watch the Supremes in action)
Diana Ross does reign, er, supreme in much of the Supremes history. But in this biography on the Supremes, Florence Ballard takes the stage first, while Mary Wilson handles its long goodbye.
The curtain rises on Detroit's Brewster Projects:
By 14, Florence Ballard had distinguished herself from her 12 siblings and within her community as a compelling singer. She soon befriended and sang with the Primes, a springboard for current neighbors and future Temptations Paul Williams and Eddie Kendricks.
At the suggestion of the group's manager, Florence recruited several new "sisters" to the Primes: Betty McGlown, Mary Wilson, and Mary's friend, the future Diana Ross. Rehearsals got serious for these amateur artists.
When Betty's interest waned, Barbara Martin came in from the wings to replace her.
With a little pull from Diana's neighbor Smokey Robinson, the Primettes won an audition before Motown's big shot, Berry Gordy. Sensing promise in their renditions of Ray Charles songs, but too much youth, he insisted they finish high school before returning.
They didn't listen. In the next year, the Primettes released a single with the Lupine label, but they still hung out at Hitsville regularly. They endeared themselves to the staffers, artists, and apparently Gordy, too. He accepted them into Motown on January 15, 1961 before they graduated.
But this is a biography on the Supremes, not the Primettes! The girls had to brainstorm and collect ideas from their colleagues for a new name. "The Supremes" was Florence Ballard's pick.
The group itself soon changed: in number, when Barbara Martin dropped out after its first single...
...and in image. Florence, Mary, and Diana already possessed talent and good manners. Still, Gordy sent them to Motown's Artist Development Department to brush up on everything.
Once musical director Maurice King, choreographer Cholly Atkins, and modeling mistress Maxine Powell had finished with them, the Supremes gleamed with glamour and poise. More than any other Motown artists, they would epitomize their company's commitment to mainstream acceptability through streamlined presentations.
Florence Ballard's clarion voice naturally let her stand out in songs like "Buttered Popcorn." In keeping with his crossover aspirations, though, Gordy nudged the softer-sounding Diana Ross toward the front.
A turning point in any biography on the Supremes. But it didn't matter much then. Rival Motown girl groups like the Marvelettes and the Vandellas struck gold while the Supremes floundered.
Until 1964. During Dick Clark's Caravan of Stars, the group's billing inched higher on posters and audience cheers got louder as the tour progressed. The Supremes' "Where Did Our Love Go," released earlier, had become a hit.
Repetition for emphasis: The Supremes had a #1 hit!
Thanks largely to songwriting dynamos Brian Holland, Lamont Dozier, and Eddie Holland, Motown would be able to say that 11 more times through 1969.
On "Baby Love," the Supremes retread the pining, girlish vocals of their first smash. Yet with bolder songs like "Come See About Me" and "Stop! In the Name of Love," the Supremes showed they weren't musical pushovers.
You certainly couldn't knock them off the charts, stage, or TV anymore. They added pop standards to their discography, and eventually made it to the Copacabana, a swanky NYC nightclub where the most popular and respectable artists performed.
Not everyone applauded the girls' fame. Berry Gordy had only so much energy to devote to his singers. That he tended to pour it onto the Supremes frustrated other Motowners.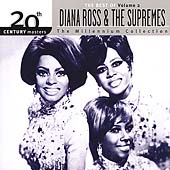 Gordy's--and the public's--growing fascination with Diana Ross bumped her songmates into the shadows and upped group tensions. Her intense careerism also sometimes clashed with Mary Wilson's more outgoing nature.
The demotion to backup singer especially upset Florence Ballard. Though she was usually a sardonic delight, exasperation over the group's direction and fatigue from the brutal work pace affected her badly. Her moodiness, drinking, and apathy increased.
After too many problems and missed engagements, the original Supremes lost its founder in 1967.
By then, it had become Diana Ross and the Supremes. Flo's stand-in of late, an ex-Bluebelle of Patti LaBelle's called Cindy Birdsong, officially joined the group.
Holland-Dozier-Holland gave "Reflections" to Diana Ross and the Supremes before leaving Motown Records. The singers would cope with that departure fairly well with songs like "Love Child" and "Someday We'll Be Together."
But the distance between the women had only widened. Case in point: Neither of those two recordings included Cindy Birdsong or Mary Wilson.
"Someday We'll Be Together" served as the group's bittersweet swansong. After its last concert in Las Vegas on January 14, 1970, Diana Ross headed out on her own.
Without Ross's presence, this biography on the Supremes centers once again on the rest of the group.
Jean Terrell rounded out the trio following a massive talent hunt. The public greeted her gladly, rewarding the new Supremes with Top 20 status several more times for songs like "Up the Ladder to the Roof" and "Stoned Love." The Supremes crystallized their legitimacy by performing with the Four Tops on three albums.
Florence Ballard's own strong voice found its way onto records at ABC. Poor promotion, however, undermined her chances for solo stardom.
Her luck worsened. Financial difficulties forced her onto welfare and into public housing. Spousal infidelity, abuse, and abandonment nearly broke her spirit completely.
She rebounded in 1975. A sizeable settlement in a lawsuit against her dishonest attorney...a well-received appearance at Detroit's Ford Auditorium...peace with her husband...new house...TV exposure...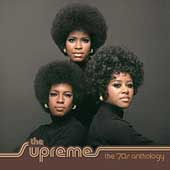 It all stopped with a sudden cardiac arrest. On February 22, 1976, Florence Ballard passed away at age 32.
In the meantime, the '70s Supremes' fortunes were steady but no longer stellar. New members (like Lynda Laurence, Scherrie Payne, and Susaye Greene) came. Old ones (like Cindy Birdsong and Jean Terrell) went. Mary Wilson stuck around long enough to sing lead in some Supremes songs.
By 1977, the success of yore was no more, and the group disbanded.
But it hadn't taken its final bow.
Mary Wilson went solo in 1979. The girl-group-centered Broadway musical, Dreamgirls, Wilson's 1986 book, and her 1990 follow-up biography on the Supremes sustained interest in the group.
She was also the one of two surviving original Supremes to attend their Rock and Roll Hall of Fame induction in 1988. Gigs with even newer Supremes, alone, and as a radio DJ have busied her into the millennium.
Although reunions have fallen through and grudges have apparently persisted, this biography on the Supremes needn't end on a sour note. With their classic music and all the archived footage of them at their glittery-gowned best, the Supremes will keep us hangin' on to memories as sweet as their songs.

For more Motown oldies info like this biography on the Supremes, please scroll down the homepage.
Top of Biography on the Supremes
---
© 2004- SoullyOldies.com. All rights reserved.